JUST RELEASED – Passaic County has new Phase 1 Rifle Camp Park Improvement Plans, as submitted for Green Acres Funding.
CLICK THIS LINK TO SEE THE CURRENT PHASE 1 PLANS:
2019_02_13 Rifle Camp Park Improvements – Exhibit for Website.pdf
SUBMIT YOUR COMMENTS on Rifle Camp Park Phase 1 Improvements
Send your Phase 1 comments to Passaic County Parks:
riflecamppark@passaiccountynj.org
See our Phase 1 Page for the history of this project.
RCP Page on the Passaic County Parks website: passaiccountynj.org/RifleCampPark

SIGN UP for our Mailing List to receive Alerts and Updates.

---
Consider attending the next Passaic County Freeholders meeting
and let them know that the future of Rifle Camp Park
is important to you!
Next Meeting:
Tuesday, June 25th 2019
Freeholder's 2nd Floor Offices
401 Grand Street, Paterson NJ
Following Meetings:
Tuesday, June 25th
Tuesday, July 16th 3rd Tuesday of month
Tuesday, August 13th
Tuesday, September 10th at the Public Safety Academy (300 Oldham Road, Wayne)
Tuesday, September 24th
Tuesday, October 8th
Tuesday, October 22nd
Monday, November 18th 3rd Monday of month
Tuesday, December 10th
Monday, December 30th Meeting begins at 10:00 a.m.

Meetings are normally held at:
Freeholder's 2nd Floor Offices
401 Grand Street, Paterson NJ
Freeholder Meetings are listed HERE.
Meetings are also posted on the Passaic County Calendar.
You can also check the Freeholder Website for updates
(Or the Passaic County Public Notices page)
---
Thank You!
To the Passaic County Freeholders
for announcing on December 12th 2017 that the Disc Golf project at Rifle Camp Park will NOT move forward!
A special Thank You! from all of us to our friends and supporters, who saw this campaign to a successful conclusion!
MUST READ!
Editorial: Disc golf course didn't fly on Garret Mountain
http://www.northjersey.com/story/opinion/editorials/2017/12/14/disc-golf-course-didnt-fly-garret-mountain/952735001/
Rifle Camp Park disc course is 'a dead issue,' Passaic County says
http://www.northjersey.com/story/news/passaic/woodland-park/2017/12/12/rifle-camp-park-disc-course-dead-issue-passaic-county-says/944489001/
---
Statement by Ann Schnakenberg,
Executive Director of the Save Rifle Camp Park Coalition
"The events unfolding in connection to Rifle Camp Park, our local Passaic County Park here in New Jersey, are indicative of a state and national dilemma. Our story brings the current assault by government upon our state and national parks such as New Jersey's Liberty State Park and Utah's Bears Ears National Monument home to an even more local county level. Public access to and protection of natural open space is currently under siege across all fronts. Steps need to be taken by elected officials to address these situations before it's too late."
---
Passaic County backs away from disc golf course at Rifle Camp Park
NorthJersey.com, by Richard Cowen, Oct. 11, 2017
http://www.northjersey.com/story/news/2017/10/11/passaic-county-backs-away-disc-golf-course-rifle-camp-park/754616001/

*** NEW LOCATION FOUND for Disc Golf Course! ***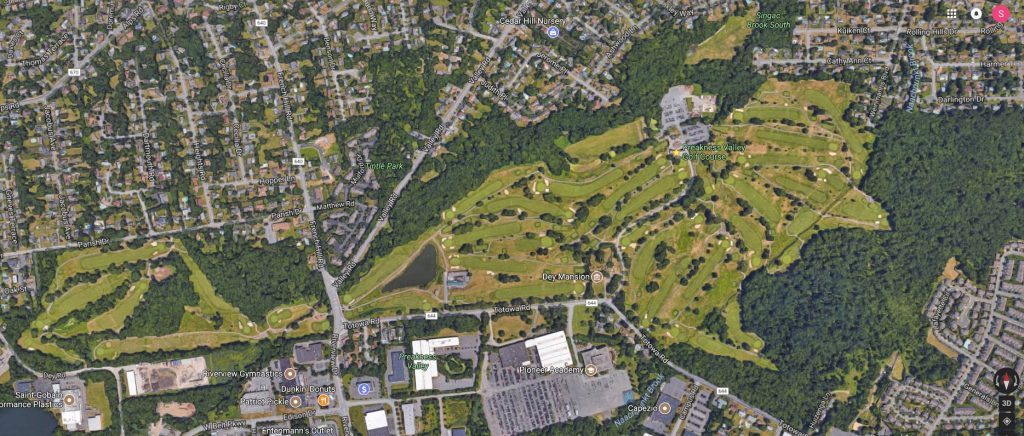 Preakness Valley Golf Course, owned by Passaic County-
377 acres dedicated to Sports!
We are pleased to announce that we have found a new location for the proposed Disc Golf Course for Passaic County! Preakness Valley Golf Course, 209 Totowa Rd, Wayne, NJ, is the largest park in Passaic County's park system in lower Passaic County. A recommendation by the disc golf community is that border areas of operating golf courses could be used for new disc golf installations- And Passaic County has TWO golf courses on this property!
Installation of the new disc golf course could be immediate, and would have real benefits for disc golfers-
See our reasons why this is the right location!
See "Theodore Wirth Disc Golf Course" video,
showing disc golf played on a traditional golf course in perfect harmony.
See a video of the new Preakness Valley Golf Course upgrades,
ready to receive disc golfers:
http://www.northjersey.com/videos/news/passaic/wayne/2017/07/24/video-public-golf-course-gets-upgrade/103956000/
See news coverage of our press conference
northjersey.com: Disc golf opponents want course moved to Wayne.
http://www.northjersey.com/story/news/passaic/woodland-park/2017/09/21/disc-golf-opponents-want-course-moved-wayne/689587001/